I listen to a lot of podcasts. During 2018, I was listening to my favorite podcasts (SLOW Flowers, for anyone interested) and the host and designer being interviewed were talking about a series of photo shoots she had designed at the same venue but during each season to show what flowers and foliages are available during a particular time. Seasonality can change the style of the event, even though everything was photographed at the same venue. I loved the idea and wondered how I could begin a similar project.
The designer interviewed in the podcast is committed to using American grown flowers. I have a love for local, seasonal ingredients. So, I set out to create an arrangement each month using only locally grown products.
I will admit that some months were easier than others. We are not blessed with a large number of flower farms in our region. I was able to choose from what I grow as well as two other local farms–Timberview Flower Farm in Evansville and Darnell School Road Farm in Mt Vernon.
I did my best to vary the look from month to month. I created a bouquet using evergreen foliage in January, so I couldn't do the same thing in February. Things grow so abundantly here during the summer that I had the opposite problem and had to work to narrow things down and highlight something different than the month before.
I took the arrangement to Shillawna Ruffner of Shillawna Ruffner Photography each month and she photographed the flowers in many places and against many backdrops. Heather Vaught of Steadfast Media then put together the calendar. This project was grown, designed, photographed, and printed in southwestern Indiana.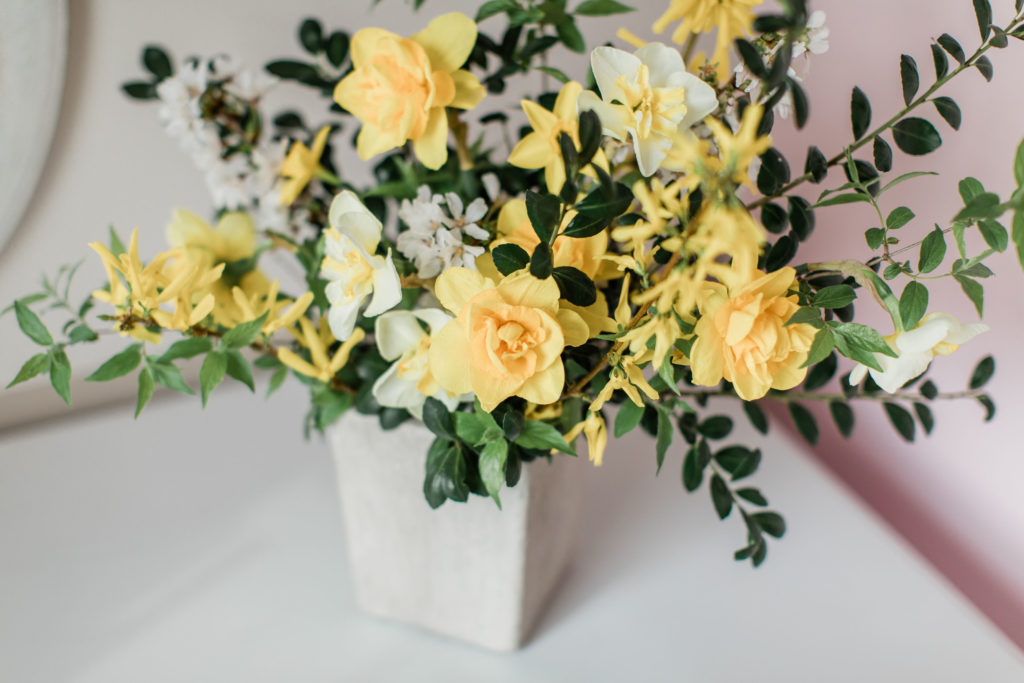 The calendar turned out to be better than I ever expected. I am so proud of this project for the success and also our commitment to this year long project.
Calendars are available in two sizes. The smaller size focuses on detail shots of the flowers and the larger appointment calendar features the entire arrangement.
Calendars are being sold locally at Farm 57, River City Coffee + Goods, and Sweet Emotions Soaps. They are also available at the Timberview Flower Farm Holiday Open House on November 29th and 30th.
Does one season stand out to you? Do you prefer the pastels of spring or the bold summer colors? Maybe the muted winter tones?
Thank you for all of the positive feedback I have already received on this project. I hope you enjoy the beauty of nature in our area.