I am honored to be a preferred venue at The Bauerhaus.  Their staff is some of the friendliest and easiest to work with in the area.  So when they asked me to participate in their bridal open house, I was happy to participate.
My task was to decorate three tables.  I had to ask myself, "What do brides want to see?" I debated with myself.  Large or small arrangements? Tall or low? So many questions.  I opted for smaller and low because I feel like that is what most area brides ask for.  And I was complimented by several that they liked the size of the arrangements.  (Whew! I made a good choice!)
Color and a general aesthetic is what differentiated my three tables.  Here is how my plan unfolded:
1. Bright, Bold Colors
Pastel palettes will always be popular but I feel like the uber popularity of pastels from the past few years is lessening.  Color is back! Bright Coral has been named as the Pantone 2019 Color of the Year so I decided to bring that palette onto my first table.
Coral can be interpreted many ways.  For some it is more pink, and for others it is more orange.  I went with an ombre coral look here.  I love gold accents with coral and everything popped even more with the Bauerhaus's salmon table cloths.
Just for fun–tangerines! It was a fun way to add a place card and it could become a pre-dinner snack for your guests!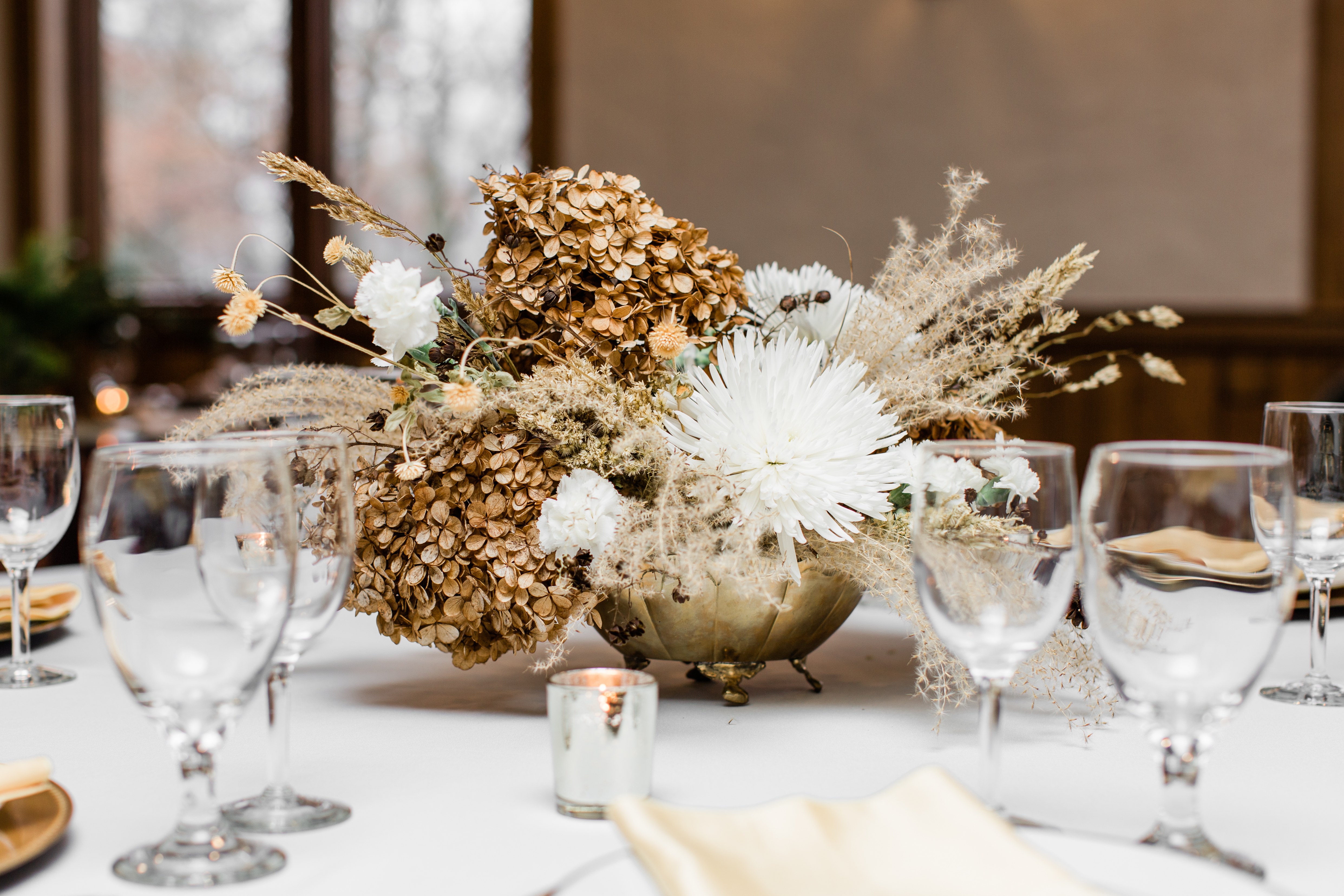 2. Seasonal, Winter Design
It isn't a secret that I love seasonal design.  What is available locally in January? Well… not much.  I was able to pair local dried flowers with snowy white flowers.
The lack of greenery and simple tablecloth gave the table a snowy, wintery look.
3. Nature Inspired, Woodland Tablescape
An all-green arrangement works any time of year. It can be varied with lime green tones in the spring, tropical foliage in summer, or aging branches in the fall.  The key to a monochromatic arrangement is texture.
I used green dianthus flowers, several foliages, and those little balls are brussel sprouts wired into the arrangement!
The weathered tray looks like it has been sitting in a woodland garden. I added wood chargers and they were set off perfectly by a copper crinkle tablecloth from the Bauerhaus.
What do you think? Which is your favorite? What would you plan for your next event?